Partners from across the life sciences sector came together to celebrate the progress of Canada's Immuno-Engineering and Biomanufacturing Hub.
On October 30, partners from across B.C. and Canada's life sciences sector gathered at UBC to celebrate significant milestones for Canada's Immuno-Engineering and Biomanufacturing Hub (CIEBH) — the coalition of partners recently submitted a suite of major federal proposals that promises to position Canada as a global epicentre for developing next-generation vaccines and therapeutics.
CIEBH is a UBC-led national research hub established as part of Canada's Biomanufacturing and Life Sciences Strategy. Since launching in early 2023, CIEBH's partners have been working at an accelerated pace to develop an integrated program of biomedical research, talent development, and biomanufacturing and clinical trials infrastructure.
The ultimate goal: establishing a seamless drug development pipeline that will enable Canada to respond to future pandemics and other health challenges in less than 100 days.
"B.C. has one of the fastest-growing life sciences sectors in the country, fueled by breakthrough research, world-class talent and industry expertise," said Dr. Dermot Kelleher, Dean, Faculty of Medicine and Vice-President, Health at UBC. "Through this hub, we are harnessing the strengths of leading scientists and partners toward the shared goal of responding to health threats quickly and nimbly, developing world-leading therapies and vaccines that can be rapidly scaled for Canadians."
The proposals, part of stage 2 of the Canada Biomedical Research Fund (CBRF) and Biosciences Research Infrastructure Fund (BRIF) competition, were developed collaboratively by CIEBH's partners from across the private, public, not-for-profit and academic sectors. This sector-wide connectivity is critical to ensuring Canada creates a healthier future for people across the country and around the world.
"We're uniting leading players to deliver revolutionary new health solutions," said Dr. Benoit-Antoine Bacon, UBC President and Vice-Chancellor. "If you want to reach your full potential, full impact, you need like-minded partners across all sectors, government, industry, not-for-profit, academia, visionary individuals and investors."
CIEBH's proposals are now being reviewed at the federal level, with results expected to be announced in early 2024.
Guests gathered in Jack Poole Hall at UBC's Robert H. Lee Alumni Centre to celebrate the submission of proposals. Dr. Michelle Wong, Executive Director of CIEBH, and Senior Director, Research, UBC Faculty of Medicine, greeted hub partners, supporters and UBC community members and guided the celebration's proceedings.
Derek Thompson – Thlaapkiituup, Director, Indigenous Engagement, UBC Faculty of Medicine, shared a land acknowledgement, thanking the Musqueam people on whose territory the event took place, and reminded attendees of the Coast Salish teaching of "one mind, one voice," and shared a song.
Dr. Pauline Johnson, Professor of Microbiology and Immunology, UBC, and Dr. Lisa Chu, Dean of the School of Health Sciences, BCIT, spoke about collaborative training and talent development programs that are underway to train, upskill and reskill workers for the life sciences and biotech sectors.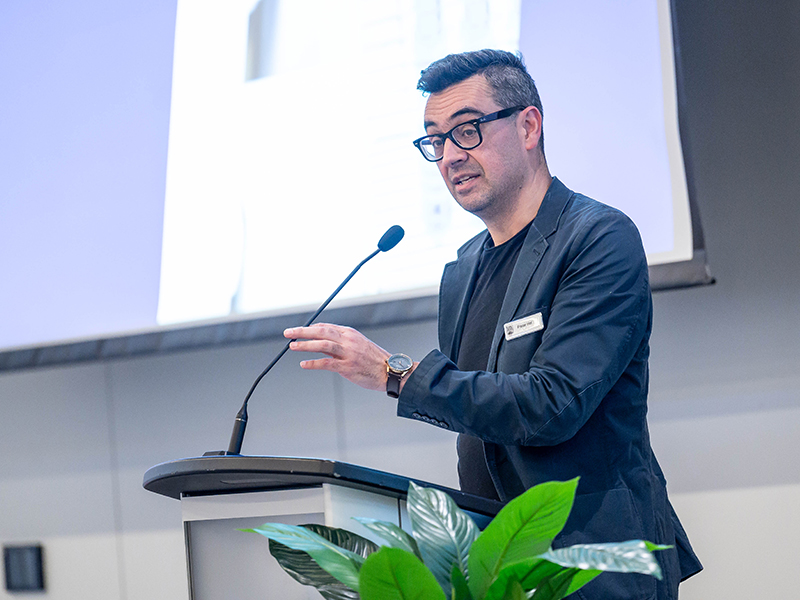 Dr. Fraser Hof, Associate Vice-President Research, University of Victoria, shared his perspectives on the incredible collaborative efforts and new connections formed during the proposal submission process.
Dr. Alison Orth, Director, Clinical Trials BC, Michael Smith Health Research BC, reflected on the hub's ability to strengthen B.C.'s heath research system and support diverse research talent.
Among CIEBH's partners are leading biotech companies from across B.C., Canada and the world. Dr. Chadwick King, Associate Vice-President, Research, and Site Head, Amgen British Columbia, reflected on his company's deep connections to UBC, and Vancouver's unique ingredients for building a successful hub.
Looking ahead, Dr. Chen Wan, Senior Research and Innovation Manager, Health, Genome BC, shared her organization's support for the hub as part of their commitment to shaping B.C.'s life sciences sector and driving B.C.'s bio-economy.
Dr. John Stylianou, Director of Biology, adMare, spoke about adMare's support for start-ups and growing companies by identifying promising research, building talent and collaborating to help accelerate innovation and research translation.
Following the event program, CIEBH partners and supporters gathered for a reception to celebrate their work and to connect with colleagues across the hub network.
Dr. Pieter Cullis, professor of biochemistry and molecular biology at UBC's Faculty of Medicine, and a member of the hub's core scientific team, connected with Dr. Kelleher.
---
Published: November 14, 2023